Mr. Bijendra P Patel
MBBS, M.S, FRCS (Gen Surg)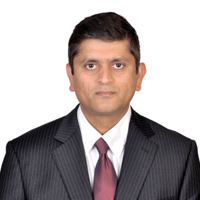 Consultant Surgeon and Clinical Senior Lecture Upper GI Surgery
Director of Surgical Simulation Unit, Bart's Cancer Institute, QMUL
Clinical Director General and Emergency Surgery Bart's and Royal London Hospital
London Pharmacy Director
Abbreviated Curriculum Vitae
Mr Bijendra Patel is a fellow of the Royal College of Surgeons of Edinburgh; he graduated from the University of Bombay in 1989 and has obtained training in General Surgery and higher specialist training in Laparoscopic and Gastrointestinal Surgery in the UK since 1994. He was awarded the "Certificate of Completion of Specialist Training" in 2004 by "Specialist Training Authority" representing the four Royal Colleges of Surgeons in UK. He was subsequently appointed to his current clinical-academic post since 2004.
Academic Interest
Mr. Patel is leader in establishing higher education degrees for acquiring operative surgical skills by simulation. He pioneered the Masters course in Surgical Skills and Sciences at Queen Mary, University of London and has set up a "Virtual Reality Surgical Simulation Centre" for training surgeons. The course employs novel techniques in the education of surgeons, using computer simulations to enhance the surgical skills. As the course director for the MSc course he is involved in the delivery, quality assurance and quality enhancement of this course.
He is also on the faculty at the Royal College of Surgeons of England for teaching laparoscopy skills courses.
As the "Director" for London Pharmacy Academy, Mr Patel is providing clinical advice to the board along with professional leadership for peer support/networking and opportunities for developing and facilitating delivery of higher quality educational programme for pharmacists. He has a corporate role of shared responsibility for strategy and for taking a lead on setting educational standards.
Clinical Interest
In his current post at Bart's and the Royal London Hospital Mr Patel provide the regional gastro-oesophageal cancer service for Inner East London. His main clinical interest includes
Surgery for benign and malignant diseases of Oesophagus and Stomach.
General and Gastrointestinal Surgery
Laparoscopic Surgery